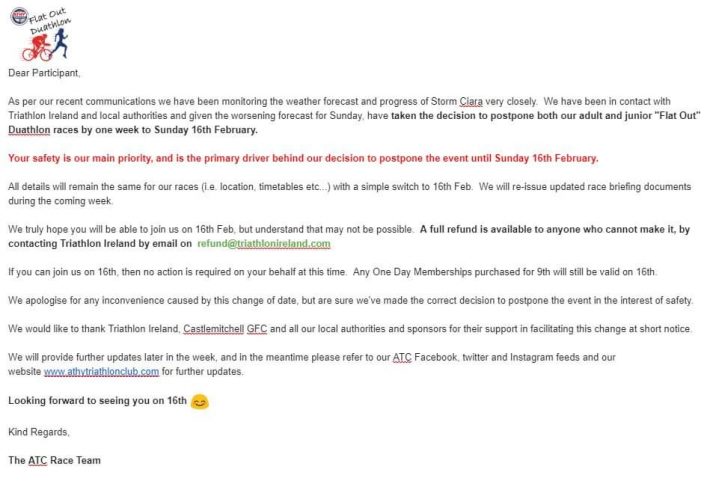 Dear Participant,
As per our recent communications we have been monitoring the weather forecast and progress of Storm Ciara very closely. We have been in contact with Triathlon Ireland and local authorities and given the worsening forecast for Sunday, have taken the decision to postpone both our adult and junior "Flat Out" Duathlon races by one week to Sunday 16th February.
Your safety is our main priority, and is the primary driver behind our decision to postpone the event until Sunday 16th February.
All details will remain the same for our races (i.e. location, timetables etc…) with a simple switch to 16th Feb. We will re-issue updated race briefing documents during the coming week.
We truly hope you will be able to join us on 16th Feb, but understand that may not be possible. A full refund is available to anyone who cannot make it, by contacting Triathlon Ireland by email on [email protected]
If you can join us on 16th, then no action is required on your behalf at this time. Any One Day Memberships purchased for 9th will still be valid on 16th.
We apologise for any inconvenience caused by this change of date, but are sure we've made the correct decision to postpone the event in the interest of safety.
We would like to thank Triathlon Ireland, Castlemitchell GFC and all our local authorities and sponsors for their support in facilitating this change at short notice.
We will provide further updates later in the week, and in the meantime please refer to our ATC Facebook, twitter and Instagram feeds and our website www.athytriathlonclub.com for further updates.

Looking forward to seeing you on 16th

Kind Regards,

The ATC Race Team