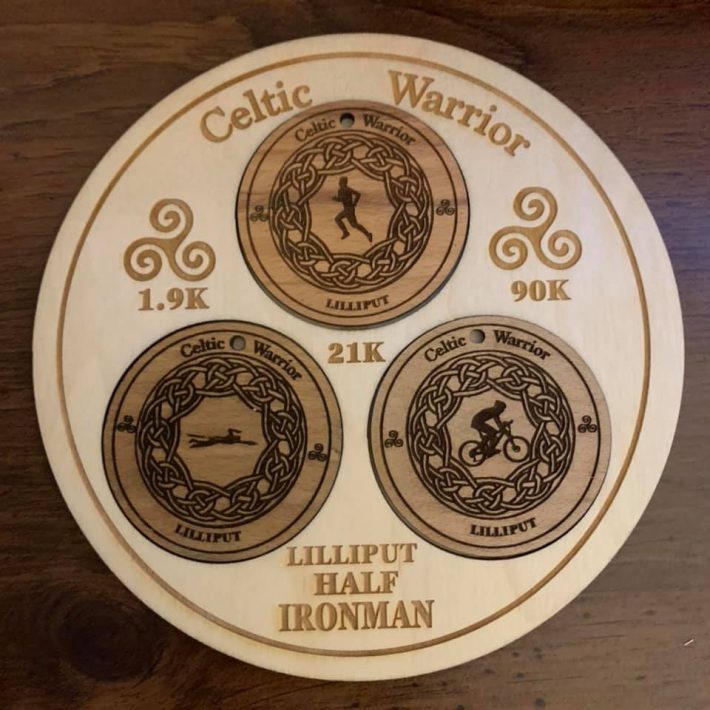 Finally, a race! Loads of races actually. Celtic Warrior weekend in Lilliput Adventure Centre, Westmeath put on a great weekend of running and triathlon with multiple events across multiple distances. Whether you want to do a 5k, a marathon, three marathons on consecutive days, a sprint tri or even a back to back iron distance triathlon, there's something there for you.
Plenty of ATC members made the short(ish) drive down to the shores of Lough Ennell and it felt great to just be lining up for something again, setting up in transition, cursing yourself for forgetting something, pinning on a number, struggling into the wetsuit, etc., all those familiar feelings that have been denied to us in 2020.
The weather was a very mixed bag, driving rain for a lot of Friday, quite a pleasant Saturday morning – not too warm and hardly a puff of wind – lashing again in the evening and good weather again on Sunday morning. A few of us went through a great deal of hardship getting to the end of the longer events, one member who shall remain nameless bailed at the first sign of discomfort and hit the chipper a few miles down the road.
Congratulations to Full Warrior finishers Anna Deegan (First place on her first long-distance tri, an absolute lesson in consistency from beginning to end and a lesson in how to prepare for and execute a long race!) and Caroline Howe. Eamonn McEntee didn't think one was enough so he became the club's second back 2 back Full Warrior – some going. Rob O'Brien gave it a good go but bowed out with ten miles left to run.
In the Half Warrior, Mark Doyle and Derek McEvoy finished second and third. Other finishers included Colin Mulkerrins (despite a grave navigational error), Damien Coogan, Bernie Dillon, Arno Albergaria and Jason Carolan. Well done everyone.
Stephen O'Neill, Emma Deegan and Tom Popple completed the sprint tri.
Our runners included George O'Neill who completed two half marathons on different days and Diarmaid Flynn (half marathon), while Baco McEntee and Katie and Ellie Dillon ran the 5k. Great work everyone.
As usual, we had great support on the sidelines. Most of the longer event routes were multiple loops so it was great to have a bit of clapping and cheering every time anyone passed the ATC area. Massive thanks to Padraig, Zuzana, Arnold and family, Kim, Karen and other long-suffering spouses/partners and children! It got tough when the rain came down late on and the support of club mates became even more important.
Well done everyone. Keep up the training and we'll be back racing again soon hopefully.