Information and Guidelines for Return to Training
| | |
| --- | --- |
| Tuesday | Open water swimming |
| Wednesday | TT (fortnightly) |
| Thursday | Junior swimming |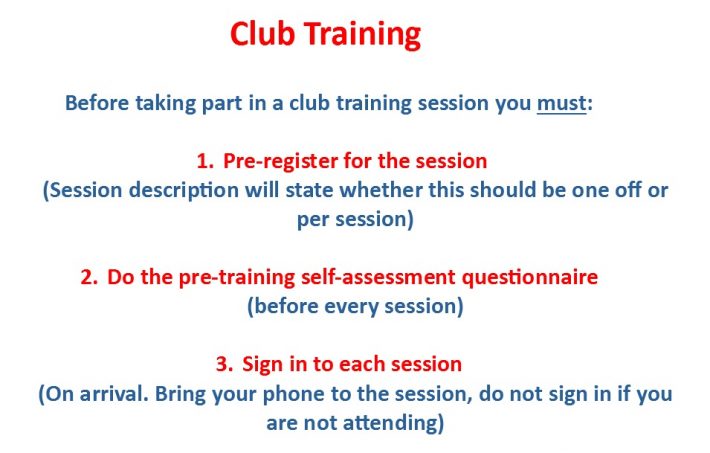 Anyone wishing to attend a training session MUST pre-book. If a member has not pre-registered and turns up to a session, they will be asked to leave. This is not something that anyone wants to have to ask so do not turn up to a club training session without pre-registering.
Training is for club members only, we cannot facilitate any non-member training at this time.
All participants, volunteers and coaches will have to sign in virtually to any session they attend. This is mandatory, so it will be necessary to bring your phone to each session to enable you to do this.
Before every session, all participants must complete a self-check questionnaire. This is a personal questionnaire, the results do not have to be shared but if you answer yes to any question you must not attend the session and should seek medical advice.
Return to Training Guidelines
Members must be familiar with the training before attending club training sessions
Covid-19 Awareness Training
The club recommends that all members complete this short Covid-19 awareness course

before

returning to training.
Self-assessment questionnaire
Members must use this questionnaire to assess whether they are fit to attend club training sessions. The questionnaires do not have to be sent to the club.
Pre-booking
Pre-booking is mandatory for all training sessions (After picking training location on the first screen, look for Classes, not Services, on the second screen)
Sign-in
Links to the sign-in sheets are in the 'About' section of the Members' Facebook group.

As we are all aware, this is unknown territory for the club and is an evolving situation, as such, all training sessions are subject to change as we will be adhering to government and TI guidelines at all times. We ask that everyone adhere to the above and to the guidelines at all times. We all want to get back training but our main priority is people's health and safety.
There are still some details to be finalised but the training plan going for the next few weeks is as follows:
On Tuesday 30th June, there will be beginner open water sessions. These sessions are for people who are completely new to, or very nervous of, the open water. These sessions will focus on confidence and getting comfortable in the water. Places are limited to 7 per group and will last for thirty mins twenty in the water and ten minutes to leave before the next group arrives. After these first sessions, club open water sessions will restart at Maganey.
Starting on Wed July 8th, TT bike sessions, times will be recorded and then you try to better your time, to start with these will be every 2 weeks. When you register, you will need to fill in your estimated finish time, this will determine the running order so as to facilitate social distancing. The course starts just beyond the Athy end roundabout and is an out and back turning at the first roundabout and finishing across the road from where you started.
Junior swimming will take place on Thursday evenings, there will be three half-hour sessions each night catering to different ages and abilities:
6:00pm – Teenagers and more confident younger swimmers (should be able to swim at least 200m in open water)
6:30pm – Ages 4-8
7:00pm – Ages 9-13
Please keep an eye on the Facebook Member's Page for any last-minute changes to the schedule. Further details will be added to this page as and when they become available.