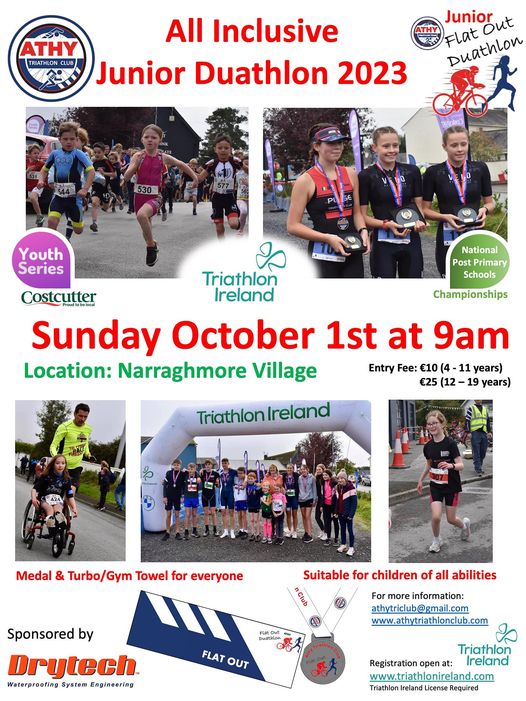 Our ATC All-Inclusive Junior Duathlon will take place in Narraghmore again this year. This popular long-running duathlon is traditionally a fun event for every child regardless of ability and places an emphasis on taking part, doing your best and finishing with a smile.
For the more competitive-minded, in addition to being a round of Triathlon Ireland's Costcutter Youth Series, the event will also serve as the Youth National Championships as well as the National Primary and Post-Primary Championships. In 2023, for the first time, we will have some draft legal racing, older age groups, from 10-11 on will take part in this exciting and tactical racing format.
In order to accommodate the new racing format for older juniors, we have made changes to this year's course. The cycle will now take place on a closed 5k loop. The change to our bike route has led to changes in the location of the transition area and we ask that you please approach Narraghmore along the L8016 from the east as this will be the only open road on the day. Download course and event maps here.
As ever, we are very grateful to the residents of Narraghmore and to our sponsors and supporters for their support for this event.
You can enter on the Triathlon Ireland (TI) Events page here: https://app.triathlonireland.com/race-calendar/ Please note that, due to TI rules, you will need to purchase a one-day membership (ODM) for your child to race, this costs €6 and is in addition to the race entry fee. The ODM can be purchased on the TI website when entering. Further details about registering your child are available below.
Details about race distances are available below. If you have any further questions or are looking for more information, contact us by email: [email protected].
We can't wait to see you on the day.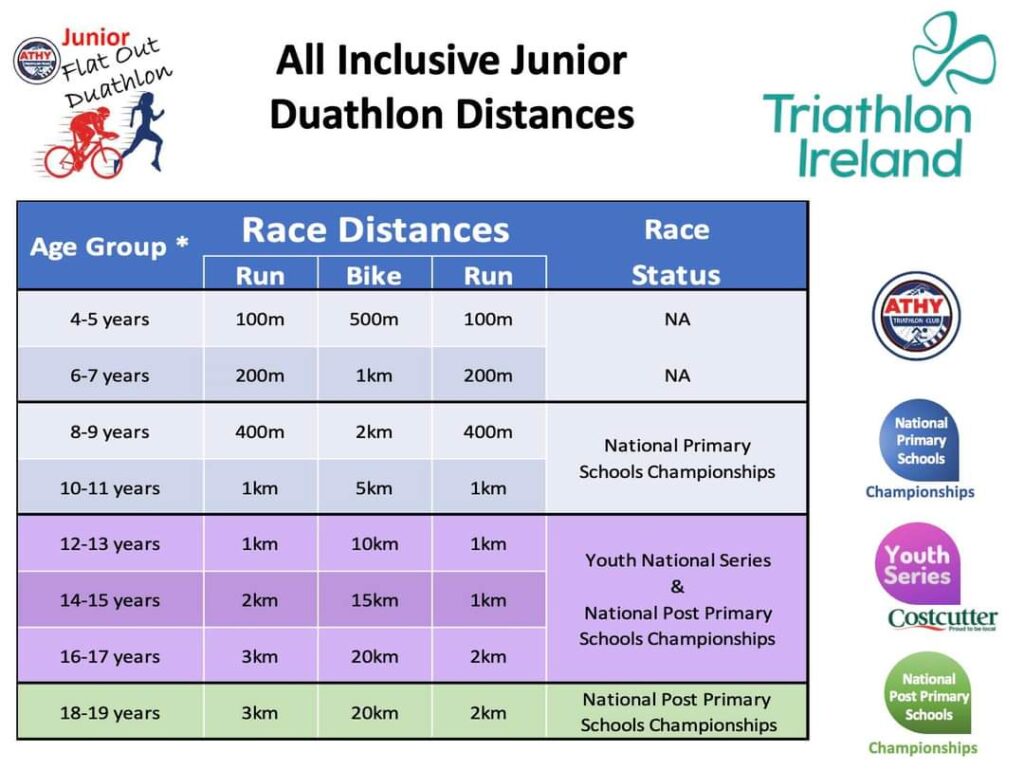 These are the distances that each age group will run and cycle at our Junior Duathlon.
If your Junior does not have a Triathlon Ireland account yet, please follow these three steps:
How to register for a race:
1. The Parent or Guardian will need to create a free account (U18s cannot have their own account).
2. 'Add a Junior Account.' Full details on how to add a Junior account can be found on this page (screenshot of relevant text below).
3. Register for a race through your Triathlon Ireland account, ensuring that you select the junior member's name during the registration process when you are asked to 'Select the Athlete.'