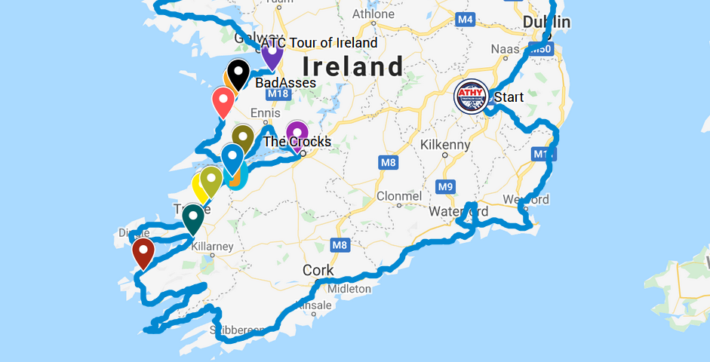 Athy Triathlon Club is delighted to be running a club team event for our Senior and Junior members. Eleven teams, totalling over 100 members, are taking part in a 2361km virtual race around Ireland (from the comfort of our 5k radii).
All teams are set up with a mix of junior and senior members. It is a running, jogging, walking race except for our under-12 juniors who can also log distance by cycling (this cohort is proving extremely valuable so far). Teams log their activities and evidence daily and the tireless admins behind the scenes tot up the KMs and update our map.
So far, there has been a huge uptake from members and it is proving quite a motivator with a competitive edge having crept in very quickly.
There will be bonus mileage on offer for various reasons throughout the race. International Women's Day yesterday saw our women and girls dressing up in pink or purple for their activities while our men and boys were encouraged to explore their feminine sides.
We are also using the race as an opportunity to fundraise for Jigsaw Ireland Youth Mental Health Service which we see as a very worthy and appropriate cause, especially in the current climate of Covid-19 restrictions where we all need to look out for our own mental health and that of the people around us.
Follow our progress here (the map will be updated a few times a week) or on any of our social media. If you'd like to make a donation you can do so on our iDonate page.
Massive thanks to Zuzana, the driving force behind the whole operation. She's very modest so she'll insist that it's a team operation and that she couldn't do it without a huge amount of help. She's probably right but she deserves the most credit!