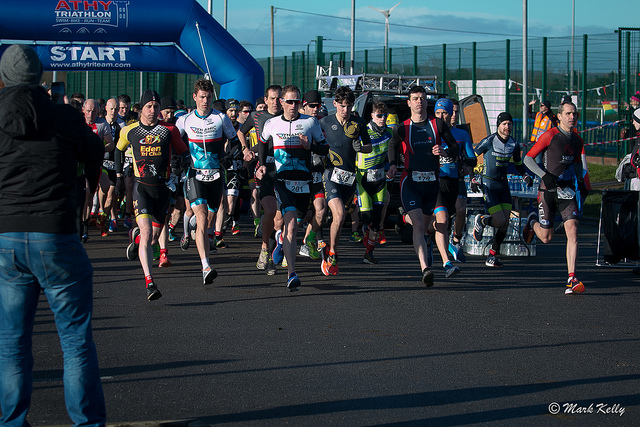 Course records tumbled as Daryl Kearns 54:46 led the men home and Ciara Wilson 1:02:45 was first woman across the line in ATC's Flat Out Duathlon 2019, part of the BMW Duathlon National Series. Marc Flavin 55:05 and Emmett Kelly (Waterford TC) 56:25 filled out the men's podium while Barbara Dunne 1:03:09 Olivia McCartin (Athlone TC) 1:03:38 were second and third women to complete the Flat Out BMW NS Duathlon. In what turned out to be a great day of racing in Athy, almost 500 competitors took part in and, according to the results of our post-race survey, enjoyed the two duathlons on offer.
Apart from the fastest men and women we had many people taking part in their first multi-sport event or just getting into fitness who can now call themselves duathletes and who have a target to aim for next year. We had a number of finishers in the 65-69 age category in the senior race early on and the day was rounded out by the four and five year olds showing that duathlon really is a sport for everyone.

This was the biggest day of racing we've ever put on with numbers for Flat Out similar to the entire three race series of past years and an almost fifty per cent increase in the junior numbers so we were delighted that the duathlons went off so well. Conditions on the day were almost perfect (sorry 12 and 13 year olds that was a pretty bad shower) and our team of volunteers and marshals, ably led by Race Director John Sourke and the members of the organising committee, had completed set up on Saturday and early Sunday morning so competitors in the two sold out races just had to get on with the business of racing which they did with gusto.

Registration opened at 08.30 and went smoothly, marshals were briefed, racers were briefed as marshals took their positions and the first race of the day – the Flat Out Duathon – got underway on time at 10am. After the first leg, a 3k run, the top five were separated by just six seconds. Less than a minute later these five were on their bikes and heading for Kildangan. For the next ten minutes bikes streamed out of transition and onto the road and we have to thank the Gardaí for assisting with traffic control and praise the patience of motorists who accepted the hold up without complaint.
After a couple of storming performances on the road, the gap between first and second was at less than twenty seconds after the 24k bike leg, with third place a little further back despite being one of five racers to average 40kph or higher in the crosswinds. Ciara Wilson reached T2 in about fifty and a half minutes with Barbara Dunne just over forty seconds behind. There was no change in the placings in the final run leg with first second and third men and women doing enough on their second time round to protect their interests.
All 255 finishers made it across the line within two hours, cheered and supported all the way by spectators, marshals and Karen Kavanagh's junior support team who managed to pick up a great deal of racing know-how from watching the event.
Post-race, we had hot drinks, sandwiches and cakes available for competitors, a welcome treat after their efforts. Prizegiving took place after the last runner had crossed the line while marshals, instead of patting themselves on the back rushed to take down senior transition and set up for the junior duathlon.
This very popular event is in its fourth year now and is an inclusive event for children of all abilities from ages four to fifteen. Racing started with 14 and 15 year olds, before the aforementioned 12 and 13 year olds who were greeted by the only rain of the day just as their race started, these were followed by 10 and 11 year olds, 8 and 9 year olds, 6 and 7 years olds and finally 4 and 5 year olds. Each group completed an age appropriate distance and while the emphasis was on fun and safe racing, there were still some big battles at the pointy end of each race.