The ATC IM Barcelona 2018 Event Blog



---
TRI-ING TO MAKE A DIFFERENCE
07/10/18
We did it.
21 members of Athy triathlon club conquered IRONMAN BARCELONA.
After Months of dedication, hard training, focus & self believe coupled with amazing support from family, friends & club mates all 21 ATC athletes got their just rewards. A privilege to be part of such a wonderful club.
Thank you to everyone who's helped us achieve our dream.
17/09/18
Team members training sessions going well, with several members participating in running and Triathlon events recently. Some super performances put in at Dublin City Triathlon, The Lakes Half Marathon to name but a few.
Some other recent highlights being, Wendesday 5th September we had Deca UK 2017 winner Ger Prendergast visit us in Athy to host a Presentation and Q&A evening.  A fellow fundraiser for Mental Health Ireland he has been in regular contact with the club since it hosted one of his Ironman days and true to his word returned to give us an evening of his time to talk about his Deca UK success, his Triathlon journey and an update on his massive Triathlon challege & fundraising campaign this year.  52 Ironman in 52 days.  The guy has a wealth of knowledge and it was a pleasure spending time with him.  The evening was very well attended by our Barca bunch and plenty of great hints and tips were shared.  We were also very lucky to have John Fox, owner of Infinity Cycles (as well as ATC team sponsor) host a bike maintenance demo on the night as well.  As part of Johns commitment to the team he has very generously offered to service all 21 team members bikes pre departure.  Thanks again to both Ger and John for their time.
We were also delighted to recently welcome a new Team sponsor 'Noonans Supermarket' (Gala Petrol Station Athy) who made a generous cash donation to our fundraising campaign.  Great to see local business support the club as well as our charity partners.
Barca support crew T-Shirts have been ordered (by Donna Kane), it won't be hard to spot our on course supporters.
We also had a fundraising afternoon in Insomnia Athy, where Athy Tri Club member and local Singing Celebrity Guard Sean O Mahony serenaded people with his fine Tenor Voice. The afternoon invariably turned into a Coffee & Karoke specail with a fun had by all, as well as raising an additional Eur 450 for our fundraising pot.  Massive shout out to Caroline Howe for leading the organisation of that particular event.
Sunday 16th of September also marked the peak week in training for most of the team, and what a way to mark it.  The club hosted another Ironman Athy day – To support our friend Deca Ironman Ger Prendergast.  This was the 2nd such day following the success of the 1st one. The club also posted some live facebook feeds throughout the day which seemed to go down well and generate a bit of online interest too.
Once again the day went off without a hitch and proved to be a great test run for some members of team Barca. The water was chillier than we will face in The Med for sure & the bike elevation of 1,000m was way more challenging, as was the run give it was a 2k loop with half on grass and half on tarmac, so it's fair to say we set up a challenging "big training day" to close out our peak weeks and be sure we are ready to conquer Barca.
The day itself went off without any major incidents. A couple of bike malfunctions and a few punctures but nothing the crew couldn't handle.  Everyone put in a real graft on the day (especially in the chilly Barrow waters and on the hilly bike course) and finished beaming with confidence.  The day was also a show of support for club friend Ger Prendergast who completed a Full Ironman distance (his second of the weekend after doing his usual Friday Iron day).  That makes it 35 Ironman days completed in his quest to do 52 in 52 weeks.  Having Ger around the Barca gang was truly inspiring, the guy is so positive and determined, our guys soaked up the inspiration for sure.  The day was also a lovely family day thanks to our Head of Junior Development Karen Kavanagh hosting a couple of hours activities for the kids, which meant the parents could participate in the run or just hang out and support their club mates.  The Junior of course getting in on the act and compleating the run laps with Ger in his final 10k.
So that's the majority of the training hardship done.
Fundraising continues, online donations still coming in and we've had some amazing support for certain (non Barca team) club members looking to get involved. One quick shout out to Maggie Owens (her husband Peadar is heading to Barca – And will most likely hammer it!!).  Maggie is a fabulous person, always willing to lend a hand and get involved in worthy causes in the club, around the town and just in her own life with so many charity and fundraising pursuits. Maggie has kindly offered to arrange and host a Table Quiz night for ATC's fundraising campaign, to be held on Thursday 20th Sept in Andersons pub in Athy.  Bound to be a great social night and lots of fun.  So thank you Maggie (I know she reads this blog!!!!)
So with motivation high, excitement building, we enter the all important "Taper Phase". Our focus turns to firming up travel and bike transport logistics, thinking about packing bags,  booking in the all important physio sports massage sessions and basically easing down on training.  This is where we allow our bodies and mind rest and recharge.  The mental and emotional battle raises a level too as we have more time to think about the event and the acheivement.  The long road is almost at an end & the big day is almost upon us.
Everyone can't wait…………GO TEAM ATC
A few recent photos below, lots more can be found on our website main page & also club face book page…
20/08/18
The countdown is on. 7 weeks to go.  4 really when you consider the last 3 weeks will be a period of "tapering" and rest and recovery to be primed on the big day.
In the last month we have seen massive effort and progress made by all team members.  The dedication and commitment is really paying off and confidence is growing.  Quite a few Barca team members showing off their skills, speed and svelt athleticism over the bank holiday weekend Triathlon extravaganza that was THE CELTIC WARRIOR.  Everyone posting excellent Half Ironman results & couple even tackling the full distance.  Special mention to club friend Ger Prendergast who completed 5 Ironman in 5 days over the Celtic Warrior bank holiday weekend.  Ger will be collaborating with the club again on Sept 5th when he plans to deliver a presentation to club members.  Something we will be extending an to our neighboring Tri clubs in Laois and Carlow.
Ger will also be down in Athy on Sunday 16th September when the Club is hosting a 2nd Ironman day.  The date being significant for us all as it will mark the "Peak Week" in our Barca training.  We expect to have another excellent turn out for that with plenty of support from fellow club mates.  Let's hope the weather Gods look kindly on us.
Caroline continuing her daily blog has been really great.  Her readership numbers increasing all the time.  People being drawn in by her honesty and willingness to share her Ironman journey.
We also had a river side photo shoot with The Leinster Leader (with fellow Barca bound athletes from Naas Tri Club).  We hope to see that published soon.  We are seeing more public support and donations are coming in.  We hope to see that ramp up a good bit in the coming weeks as we get closer to the event.
We've also been in touch with the Ironman Barcelona organisers and managed to secure some perks due to our team size (biggest club representation at the event).  Things like reserved seating at briefings and banquet, an interview with the team which will be published by Ironman page & a pre race team photo a the finish line. Hopefully that'll raise the team profile during race week.
It's getting exciting now………………..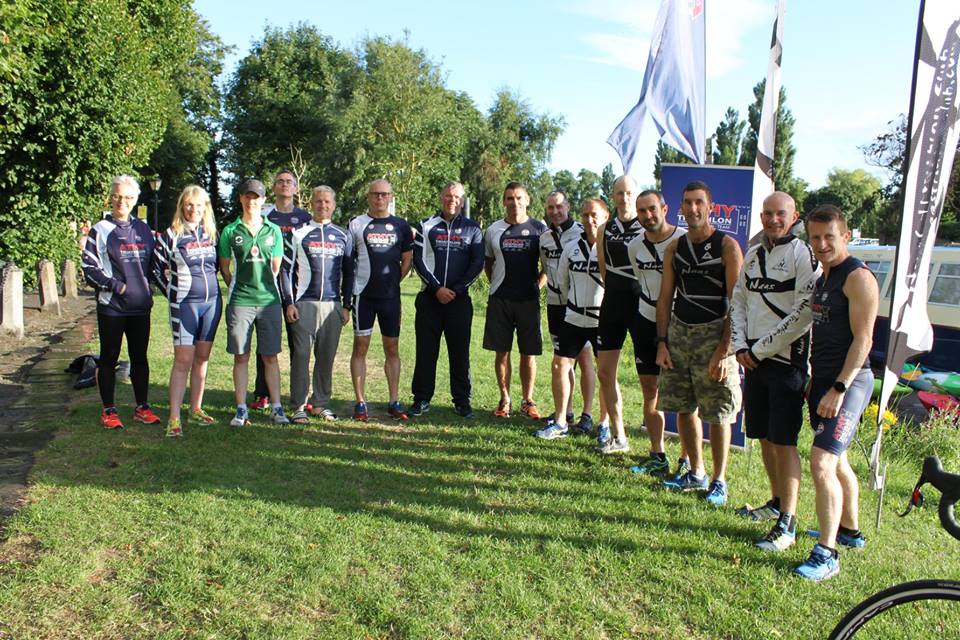 02/07/18
Wow, wow wow, only 3 months to go. The weeks and months are flying by.  It's all starting to get a bit real now as people's training realy ramps up.
Quite a lot of our team (too many to list!!!) used TriAthy to test their fitness levels, particpating in distances ranging from Tri-a-Try to Double Olympic distances on the day. This event is usually our most popular on the Triathlon circuit and this year was no different.  A great club day as well as family day out in Athy.
We also had Barca team members participate in a number of other events over the last few weeks. Several out participating in Darkness into Light 5k walk/run, joining a huge turnout from Athy local community.  We also had a massive contingent participating at Carlow 795 Sprint Triathlon.  We had a few running PB's to celebrate this month too, team members doing well at the Stonemad Marathon,  the Wexford Half Marathon (Eamonn & Arnold leading the Barca team charge there). Some more of our guys followed that up with attendance at the Searlaith Twang Memorial Run – A bunch participating in the 10k, 10 mile & half marathon distances.  We also had some of our Barca high flyers representing club, counties & country at the Ironman 70.3 Barcelona Club Finals – All members putting on outstanding performances.  Well done June Murphy, Stephen Murphy, Keith Pollard, Daithi Kidd and Anthony Lawlor – 3 of which are in our Full Ironman Barca team.
A real sign of our team progession was on show too at the Wicklow 200 Challenge. With ATC Barca team represented by Padraig, Ben & Arnold.  Well done all.
The highlight of the months event participation however must be IRONMAN ATHY. The club held a FULL IRONMAN distance triathlon on 1st July in conjunction with fellow Mental Health Ireland fundraiser Ger Prendergast.  Ger bangs out an Ironman a week as part of his 52in52 challenge.  This particular week he did his usual Dublin based Ironman on Friday as well as travelling down from Dublin to Athy on Sunday to take on another!!! Along with several ATC members, we also had 10 of our Barca 22 taking on the Long Day Tri Challenge – completing varying distances, for some the longest they've completed to date.  A real confidence booster too and very much a Barca test run given the Mediterranean like weather we had on the day. A summary of the day can be found in our race report section of our club website….
https://athytriathlonclub.com/wp-content/uploads/2016/11/IRONMAN-ATHY-JULY-2018.pdf
There are plans to hold a similar day in September as our Barca Bunch hit their training plan "peak weeks".
In addition to training and event participation, we also had Chris Simpson (Leinster Sports Clinic) visit us to host a Sports Science Presentation, refreshing our knowledge and understanding of VO2 testing. As usual Chris was extremely generous with his time and knowledge sharing and ended up spending hours answering questions and discussing anything and everything to do with Ironman training, preparation, hydration/nutrition etc.  A really well attended evening and plans are in place for another one.
The fundraising committee have been doing some further work on promoting the clubs fundraising campaign. Including getting a pitch at the recent Kildare County Show.  At which we passed out information about our events & also sold raffle tickets for a really nice prize, a Polo Rugby shirt signed by 4 of the British and Irish Lions.  The draw was held in our local pub The Emigrant the following weekend, total ticket sales raising almost Eur 1,000 for the campaign.  A really excellent result.  Team members have also been doing their bit to promote and push the fundraising drive, all of which is fantastic and proving just how much this campaign means to us all, personally and as a club.
All/any donations to our fundraising page are gratefully received https://www.ifundraise.ie/4102_athy-tri-club—charity-fundraising—ironman-barca-2018.html
30/05/18
Our members have been busy this month with training ramping up a notch now. While October seems like a long time away, some folks are half way through their 40week programe and it's starting to get real!!
With the National Series Triathlon season fast approaching the club got back in the the river this month. A few of our hardy barca buck (namely Daithi Kidd, Keith Pollard & Stephen Murphy) even mustering up the courage to take a dip in the sea up at Dun Laoghaire.  Those 3 part of an ATC team who headed out to Barcelona to participate in the Half Ironman Triathlon this month as part of their preperations for the big one in October. A hilly bike course being the main challenge.  The full ironman bike course will be kinder in October.  We also had Barca Bunch representation at a number of other events such as The Searlath Twang Memorial Run, Wexford & Waterford half marathons:
A massive ATC team turning out for the Carlow 795 Sprint Triathlon included Barca team members Bernie, John Sourke, John O'Toole, Caroline and Jeff. Always nice to take a break from the long slow training occasionally and spark up the fast twitch muscles with a good sprint!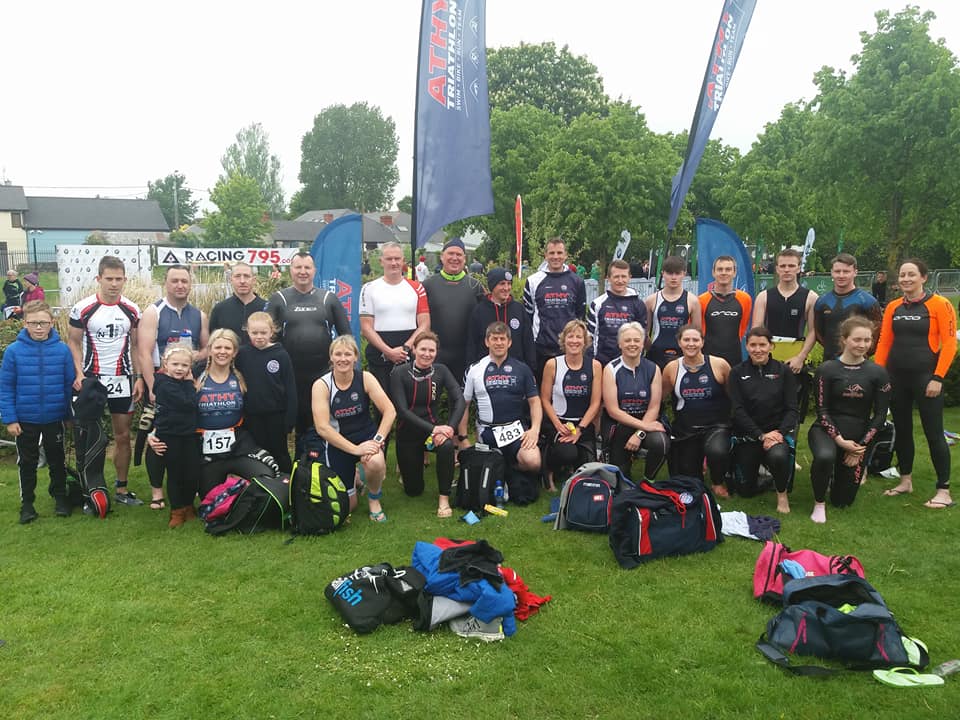 Our Barca Fundraising committee member & Club Vice Chairman Brian Dooley joined Team Members Eamonn McEntee & Bernie Dillon at the the most recent Kildare Chamber Business Expo in Naas on Thursday 10th May.  Special thanks to Bernie for arranging that spot.  It gave us an opportunity to raise awareness of our event & our charities. As well as garner some interest from corporates for potential involvement.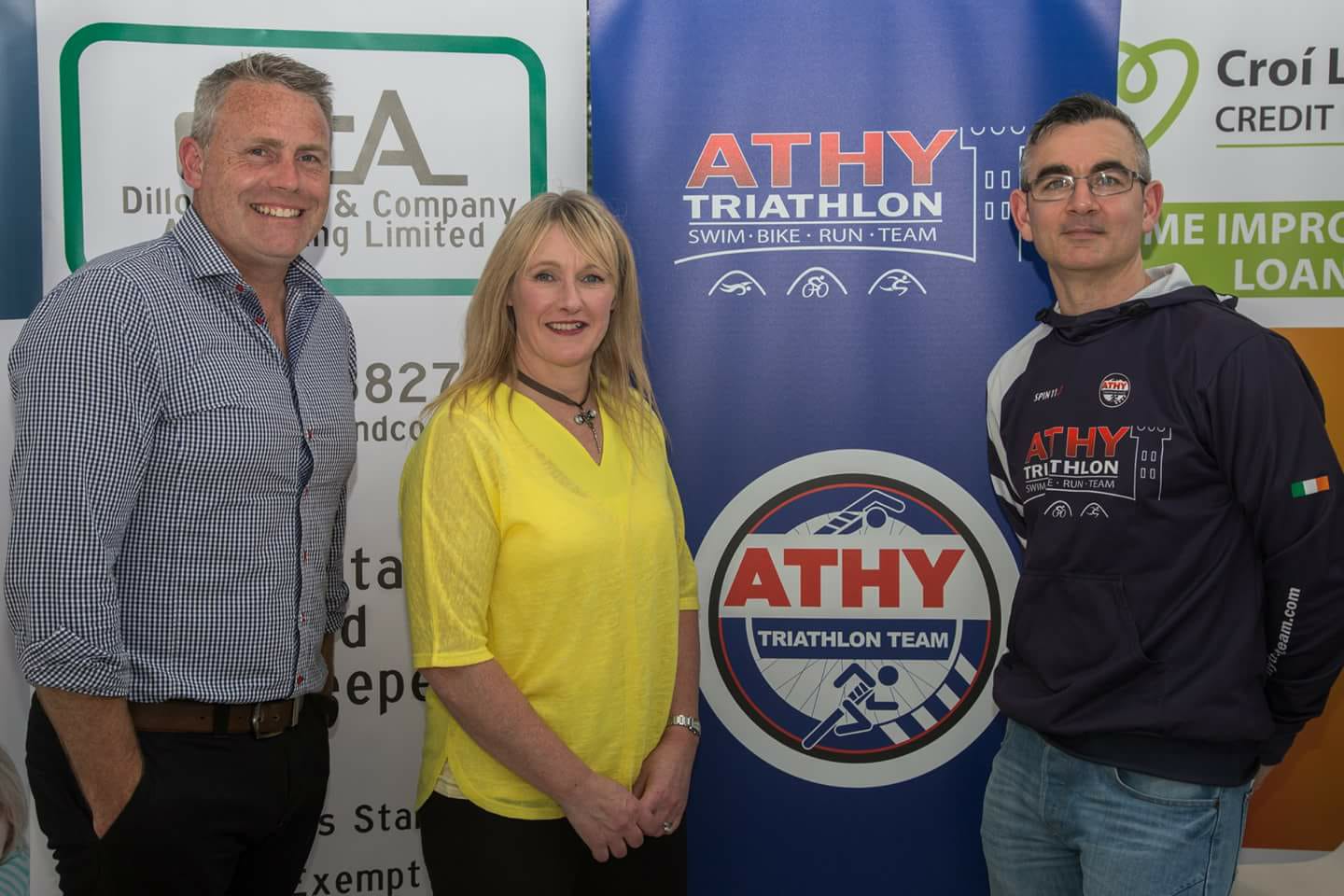 Some great news on that front this month with XS Direct joining our list of key contributors with a very generous cash donation. XS Direct are a Dublin based insurance company, who heard about our Charity Fundraising Event and very quickly got on board to show their support. Great to see members of the public and Corporate bodies taking an interest in our campaign. They were quickly followed by XL Catlin, RKD,  Kayfoam Woolfon who all made very generous cash donations recently.  We will continue to spread the word and hopefully see our fundraising pot increase. Again, all donations to our page  Athy Tri Club – Charity Fundraising – Ironman Barca 2018 are very welcome
We also had one Barca Boy, Eamonn McEntee join up with Ger Prendergast aka Deca Ironman Ger to accompany him for some of his Friday Ironman (part of his own amazing 52 in 52 challenge this year in aid of Mental Health Ireland)  – Follow the link to read Eamonn's Report on his Day with Deca Ironman Ger
29/04/18
May the road rise up to meet you. May the wind always be at your back.  May the sun shine warm upon your face, and rains fall sofly somewhere else…………….
Despite the ongoing changeable weather some great progress is being made by the Barca bunch in the last few weeks. It's hard to find a lane in Athy K Leisure pool these days, even at 6:30am.  The likes of team members Aidan Dineen, Dave Heaney & Arnold Kane regularly spotted getting in the pre work day session.  K Leisure are a great supporter of our club and regularly collaborate with us hosting our annual ATC Junior triathlon camp swims as well as our weekly club swims.  ATC members have almost taken up residence on their 2 gym Wattbikes too, the likes of Peadar Owens and Michael O'Connor putting themselves through rigeous Wattbike interval and HIIT sessons (prescribed by their coaches).  These two are all about the watts (power based training).  We expect great things from both in October.
Something that's becoming more and more regular too is ATC members being questioned by inquisitve gym goers about the Barca Bunch, "word on the street is there's 20 of ye mad yeoks going to do an all day triathlon".  Local Celebs so we are!!!
It's not all been indoor work. Deirdre and Eamonn chanced the Longford Grand Canal Marathon (a superbly ran event).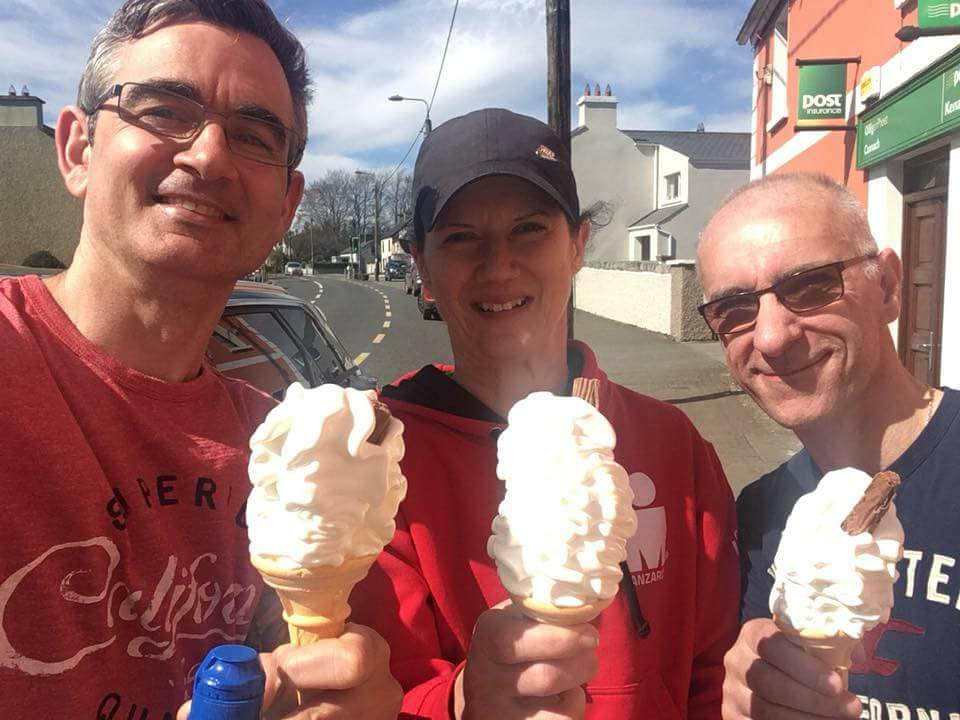 Our club also encourages members to share their race day experiences with fellow members by writing Race Reports.  One of our club members Seamus Rowan decided to do one for this one.  Well worth checking out. That and other reports can be found on our club website by following this link ATC Race Reports
We had a great club bunch (including Barca bound Padraig Kavanagh & Eamonn McEntee) tackling the mighty Mount Leinster (BlackStairs Challenge Cycle – Mid April) in absolutely horrendous weather conditions. The IM Barca cycle course is the polor opposite in terms of elevation, scenery and weather but it's all good "hard training miles" in the bank.
The team also had a presence at the Wexford Half Marathon, with Michael, Arnold and Eamonn doing the 2nd of a 3 race series – Those three are mad for the medal bling!!! Eamonn sporting the Mental Health Ireland top pre race after taking delivery of a batch for team members.
In non training related news, we also went live with our Fundraising donations page Athy Tri Club – Charity Fundraising – Ironman Barca 2018 at the end of April and have been delighted with the initial interest from local corporate sponsors.  With ATC supporting our team efforts by handing out information leaflets at the clubs Annual Duathlon event on Sunday 29th April.  We had loads of our Barca Bunch taking some time off training to Marshal and help out too.
As for the fundraising, it's very early days of course but along with very generous cash commitments from XL Catlin,  RKD and more we must also give a big shout out to John Fox, owner of INFINITY CYCLES follow this link to their facebook page who has kindly donated his bike serving skills to all 22 members of the ATC Barca team in advance of the big day. A great example of a local business supporting a local club. We are very grateful to John and staff at Infinity Cycles for their continued support.
Also worth mentioning that one of our Barca team members Caroline Howe has decided to share her Ironman training journey (via Facebook blog click here to follow) and it's well worth a read. A really honest account of one members challenge to balance ironman training requirements with a busy career & young family.
Go Team ATC
07/04/18
One month in and all the talk is about Base training and VO2 tests!!!
While most of our team have been in light training since early in the year, those that are on specific 30 week programs are now on week 5 of their "Base training". What's that says you?  Well, most structured triathlon training programs, particularly for longer distances, are broken into different phases: Base, Build, Peak & Taper.
The purpose of Base Training is to "lay a base for performing the training necessary later in the build and peak phases to have an optimal race performance". Or so it says on the internet.
A lot of the terminology used in Triathlons is lost on me (and plenty others) so I often refer to this website for clarifications https://scientifictriathlon.com/triathlon-terminology/, just so I don't sound like an eejit talking to people at races!!! Basically, base training is about knocking the cobwebs off the goggles, bike & runners and easing yourself in to regular training.  Plus trying (and I must emphasise the word trying) to cut down on the junk food and sugary drinks (aka beer & wine) that are so popular in every day life!!
So for the last few weeks our ATC Barca crew have been meeting up for leisurely Sunday cycles, attending club organised swim training sessions and coughing up a lung or two at mid-week Interval run training.  A few brave souls have even participated in some chilly 10k & half marathon road running events to test their fitness – these mostly act as a good kick up the butt to get the diet sorted ASAP & get serious about training!!! Some team members have also availed of VO2 testing with our club sponsor Chris Simpson at http://www.leinstersportsclinic.ie/ I'll let you check out the aformentioned websites for a definition & detail on what that is  (waaaay too scientific for me to understand) but basically it allows you to assess your current fitness and set particular "zones" for training intensity to improve your fitness/performance.
Base training for an Ironman normally runs for about 10-12 week so that'll be the focus for the next month or so. We will hopefully see some fitness gains and kilogram losses in that time too. You need to check your Lycra issues at the door this time of the year!!!
Coming up soon are some very popular events for our team and club generally in the shape of The Blackstairs Cycle, some road races like the The Longford Grand Run & Wexford Half Marathon so hopefully we will have some good team stories to share soon (and maybe the odd race report!)……..
GO TEAM ATC
11/03/18
Here we go, 30 weeks out from the big day,  ATC Team Barca's Ironman journey beings:
It is often said that completing an Ironman (and more importantly the training needed to just get to the start line) is a personal journey. That is true to a large extent, you have to swim, bike & run the miles yourself, no one can do it for you.  Plus with all of our team members being amateur athletes and leading very busy work & family lives, a big challenge we all face is scheduling and fitting in time for the required training.   As a result, across our team we have guys/gals using different plans, some are using off the shelf plans, Don Finks BeIronFit 30 week plan is defo a favourite, some have opted to employ a coach using 14 – 26 week personalised plans, some are using their own self designed plans and some (the crazy few) just winging it and doing as much as they can when they can.
Over the course of this year while a lot of the training will be solo sessions we also expect that being part of such a large ATC contingent targeting the same race will allow our members to participate in group training sessions too. We will be using this platform to keep everyone up to date with our progress.  We will throw in some photos & personal updates along the way too. Please do also check out our Ironman Barcelona Athlete Profiles
We are a very active club generally, with members regularly participating in Triathlon events as well as many other single and multi discipline events at home and abroad. To keep up to date with club activities generally please do check out our website https://athytriathlonclub.com/ or our facebook page https://www.facebook.com/athytriteam/
Finally for now, all our efforts this year are focused on raising awareness and fundraising for some really great causes. Please click on the below links to find further information on the charities we are supporting.  Anything you can do to help us with those efforts is greatly appreciated.
GO TEAM ATC
Author: Eamonn McEntee