Although we don't host this massive event, the fact that it is on home turf means it's a special day out for a huge portion of Athy Triathlon Club.
With the weather holding, and even, surprisingly, some nice warm sunshine, over 2000 athletes hit our home town to partake in, what's advertised as, the fastest triathlon in Ireland.
Our own club proudly represented in the top 5 athletes in many of the categories:
Lily Bowden – 3rd Female in the TryAthy
Niall Foley – 2nd Male in Sprint
Kim Doyle – 4th Female in Olympic
Conor Tiernan – 5th Male in Olympic
Not to mention the AG placings:
Gemma Martin – 2nd in AG in Try
Zuzana Hruzova – 1st in AG in Sprint
Well done to you all – you should be proud.
As for the rest of our super crew, a great show by all.
This is only a small portion of the crew representing ATC on Saturday.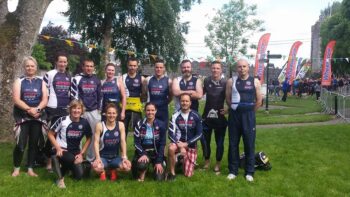 There are so many pictures, so rather than posting here, check out our Facebook page for images of our home event. https://www.facebook.com/media/set/?set=a.1940297566227661.1073741847.1402589379998485&type=1&l=891cdf0387